---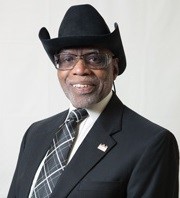 Distinguished Professor of Law, James Matthew Douglas, was named interim dean of Texas Southern University's Thurgood Marshall School of Law (TMSL), September 1, 2016. Douglas's responsibilities include academic and administrative leadership; leading and managing law school operations; advancing a vision for the school's future; fundraising; and building and sustaining partnerships and strong relationships with alumni of the law school and university.
Douglas earned the BA degree in mathematics from TSU and the Juris Doctor (JD) degree from the TMSL, magna cum laude. Douglas also earned a J.S.M. degree in computer law from Stanford University. Douglas joined the TMSL faculty in 1971 and served as associate dean from 1975 to 1980 at Syracuse University College of Law. After serving as professor of law at Northeastern University School of Law, Douglas returned to the TMSL as dean where he served from July 1981 to July 1995.
Over the years, Douglas has also served in the following distinguished positions at TSU: President (TSU); Executive Vice President (TSU); Dean (TMSL); Distinguished Professor of Law (TMSL); Vice President for Governmental Affairs & Community Relations (TSU); and Interim Provost and Senior Vice President for Academic Affairs (TSU).
---